OK-Net EcoFeed is a multi-actor project to help farmers, breeders and the organic feed processing industry in achieving the goal of 100% use of organic and regional feed for monogastrics (pigs, broilers, laying hens and parents of broilers and laying hens). Achieving 100% organic diets for monogastrics is challenging. Furthermore, importing animal feed has economical disadvantages for farmers and can compromise the sustainability and decrease consumers' confidence. All the project's work aimed at tackling the organic feed objectives for the coming years, including reducing the cost of feed production, improving sustainability and animal welfare, and satisfying consumer expectation for traceability of production.
Project duration: Janury 2018 – March 2021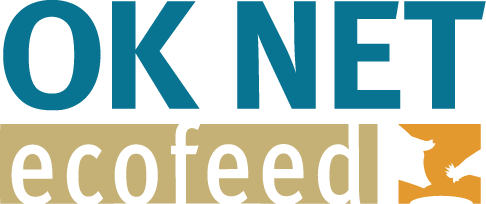 Project consortium
This project is coordinated by Bram Moeskops, IFOAM Organics International. The partners are:
International Federation of Organic Agriculture Movements (IFOAM Organics Europe)
Aarhus University / ICROFS
Organic Research Centre (ORC)
ITAB
FiBL Switzerland
Bioland
AIAB
DS Austria
Swedish University of Agricultural Sciences
Ecovalia
Soil Association
Mediterranean Agronomic Institute of Bari (CIHEAM BARI)
Regional Chamber of Agriculture of Pays de la Loire (CRAPL)
National Federation of Organic Farming (FNAB)
French Technical Institute for Poultry Production (ITAVI)
French Pork and Pig Institute (IFIP)
Bioland e.V
Donau Soja Doo Serbia (DS)
University of Córdoba
Acknowledgements
Ecofeed has received funding from the European Union's Horizon 2020 research and innovation programme under grant agreement No 817634.