Global Bean Seed Festival 2023
Global Bean Seed Festival 2023
Celebrate pulses and participate to an international seed exchange!
22 April 2023, 13:00 – 14:30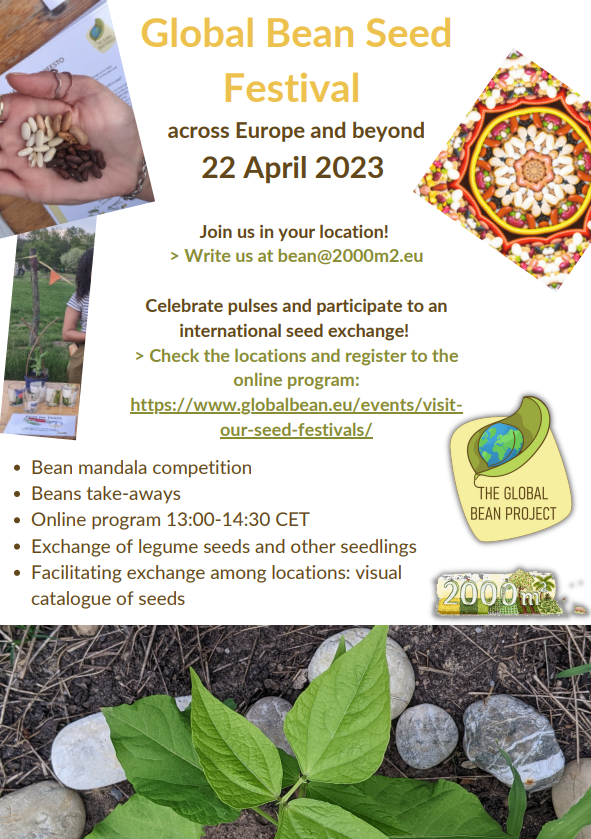 UNITED FOR BEANS DIVERSITY!
This year, we make our Global Bean seed festival very special: On 22nd April, various Global Bean partners across Europe and beyond will celebrate together the beans diversity and exchange legume seeds. We warmly invite you to join the festivities and visit the seed festivals happening in Greece, Albania, Germany, Ethiopia, Kenya, Switzerland, France, Austria, Spain, India… Check out the exact locations on this map, and join the event online if you are not able to join in presence! Moreover, we invite you to participate to our international legume seed exchange. Follow us on Instagram to see the live feed of the event!
What awaits you:
Bean mandala
Seed balls for families at the occasion of World Earth Day
1-2:30 pm Broadcasting of the online event
Legume dishes
Music
Seedlings & Seed swap & take-aways
Gardening & Cooking Workshops
Facilitating the international seed swap
Cultivation instructions and info sheets
Legume gallery exhibition
Legume quiz
Broadcasting of the international legume show garden videos